Chapter 21 – Pre-Surgery Personal Issues: Timeline And Checklist – Eight Last Minute Tasks – Two To Seven Days Before Surgery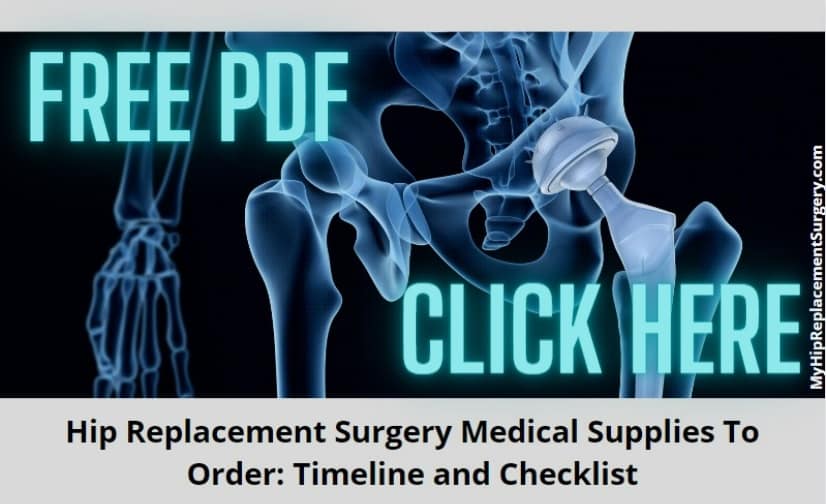 ---
About This Hip Replacement Surgery Page

Eight Last Minute Tasks – Two To Seven Days Before Surgery
Comprehensive Grocery Shopping – Do your grocery shopping in advance of your surgery. You won't be able to get comfortably into a car for at least a few weeks.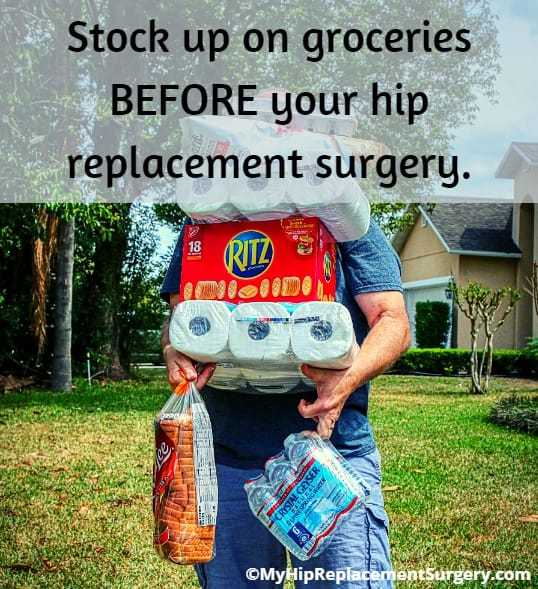 Hip Tip – Grocery Shopping: I didn't want my wife to be carrying bulky or heavy items such as cases of beverages, kitty litter, pet food, bird seed, gardening mulch, etc. I went to the store the week before my surgery and bought enough non-perishable items to last me at least six weeks. (I don't know… Maybe it was six months as my wife claims.)
Hip Tip – Grocery Shopping: There are some grocery stores that offer delivery. Look online to determine who may deliver to your home. I understand that for many, pizza was the first service that came to mind.
Hip Tip – Cook Ahead Of Time: You won't have the energy to cook and your spouse may be too tired to cook after waiting on you hand and hip. Prepare easy meals ahead of time and freeze them.
House Chores – If you have normal house chores you do, consider completing as many as you can prior to surgery. Tasks like painting, making a trash or recycling run and the like should be done the week before surgery. Plan on all those items to pile up during your recovery period.
Step Stool
Overall Dimensions: 17.3 x 12.3 x 34 inches
Weight Limit: 300 lbs.
Stable: Wide legs provide additional stability
Multipurpose Use: Bed step, stair lift, or stool for high beds, tubs, showers, vehicles, and cabinets
Walker
Brand: OasisSpace
Material: Aluminum
Item Weight: 7.74 lbs.
Weight Limit: 350 lbs.
Item Dimensions: LxWxH 18.11 x 4.41 x 27.56 inches
Age Range: Adult, Senior
Litter Scooper
Length: Extendable handle up to 34 inches
Lightweight: Made of aluminum
Easy Scooping: 6mm-wide forks to make scooping easier
Hip Tip – Gardening: If you like to garden, well, you can forget about that for a number of weeks. You may either want to schedule your surgery during non-gardening months or have someone else tend to your garden during your rehab period.
Pets and Critters – If you will be away from your home for a few days and have a dog that needs walking, cats, birds, reptiles, outside pets or farm animals that need caring for, you need to arrange to have the food available and someone to care for your animals while you are gone. If you live alone, you will need to arrange for a friend to visit at least once a day.
Hip Tip – Cat Box Litter And Dog Doo Pickup: If you have indoor cats, there is no way you can clean the litter box. That box is just too low to the ground. Same goes for your dog that goes outside for the bathroom; you just can't bend that low to clean up any mess.
Alrighty… that concludes Chapter 21.