Chapter 31 – The Days After Surgery – Complications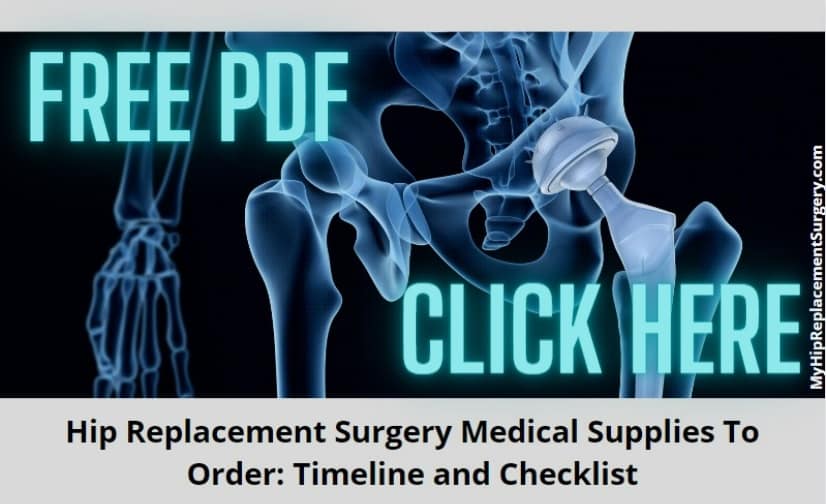 ---
About This Hip Replacement Surgery Page

The Days After Surgery – Complications
It's Complicated – Sure, a lot of stuff has to go right to make your hip replacement surgery a success, but there are a few things that can go wrong. Here they are:
Hey Mate, Get Off Your Bum And Don't Be A Daft Cow. Let's Get In The Lorry And Hit The Pub – Foreign accent syndrome is a very rare medical condition in which patients develop what appears to be a foreign accent. This is most associated with stroke or head trauma, but I included it to show the range of complications that can occur.
Insomnia, Your Body's Way Of Reminding You About Surgery – An inability to sleep through the night is a very common post-surgery side effect. Your body is healing after an invasive procedure and will let you know it.
Tinkle, Tinkle Little Star – I had a somewhat uncommon complication after my surgery: I would flash flood pee about every two hours and my bladder wasn't shy about competing against Niagara. It was like I was at camp sleeping and someone was placing my hand in a bowl of warm water every couple of hours, except I heard no giggling from the perpetrators.
My Cup Runneth Over – Just why was I peeing so much? The physician ruled out diabetes, prostate issues, urinary tract infection, and similar conditions. I was having a problem sleeping because the incision starts on my upper thigh and, like a right parens mark it curved towards the top of my butt.
Given the meatiness of my buttocks, that I had a lot of stitches and swelling, and that I was irritating the wound as I slept on my back, I had an excess of fluid, which was coming out as urine. This swelling caused me to have to wake up every couple of hours to pee to flush out the fluids. Then it took me a half hour to get comfortable in bed, only to wake up again a couple of hours later. The portable Male Urinal w/Cover helped me out a lot in that I didn't have to get out of bed every time to urinate.
Initially, it was very hard to get out of bed due to the surgical pain and moving my legs/hip of the side of the bed. I was exhausted each morning and frequently had to take multiple naps. I could feel how swollen my skin was around the scar for weeks. It was, as my mother in-law said, "Twenty pounds of fluid in a fifteen-pound ass."
Ambien Bed-wetting – Of course, my mother in-law also suggested I get a prescription for Ambien. For once, I thought she actually was being helpful, but upon further review, she probably just wanted to see me wet the bed because I would be too asleep to get up and go to the bathroom.
Walker
Weight: 19 lbs.
Weight Limit: 350 lbs.
Height-Adjustable Grips: 31 – 35 inches
Compact: Folds for easy storage
Walker Gliders
Lightweight: 0.43 lbs.
Floor-Safe: Won't scratch tiles, wood floors, or carpet
Easy-to-Use: Just pop the gliders onto your walker!
Walker Gliders
Universal Fit: Fits almost all walkers with 1-inch diameter
Easy to Use: Makes walking with a walker much easier
2-Pack: Comes with two glide covers
Less Pee, More Sleep – After about three weeks, I was waking up every three to five hours to urinate. This was so frequent because I was still filtering and discharging a lot of fluid from my body. By week five though, I was back on my normal urination schedule.
I Am Not Feeling So Hip – Patients may experience feelings of depression after a hip replacement. The depression may be due to limited mobility, lack of personal control, pain or discomfort, increased dependency on others, and/or side effects from medications. For most people, as your hip gets better, so too will your mood.
The Surgical Seven Is Faster Than The Freshman 10 – We have all heard of what used to be called the Freshman 10 (now the Freshman 15) whereby college freshman typically gain this amount of weight during their first year. Since you are not active after hip replacement surgery, you may experience the "surgical seven," a gain of about seven pounds due to all the sitting around you do as you recover. It takes a freshman an entire academic year to gain the 15 pounds, but you can do half of that amount in just a matter of weeks.
Alrighty… that concludes Chapter 31.