Chapter 13 – Scheduling Your Surgery Checklist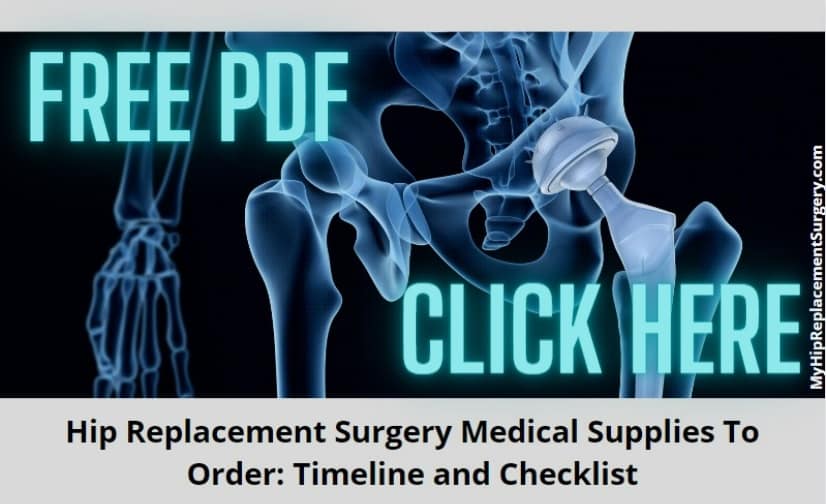 ---
About This Hip Replacement Surgery Page

Nine Key Factors To Consider When To Schedule Your Surgery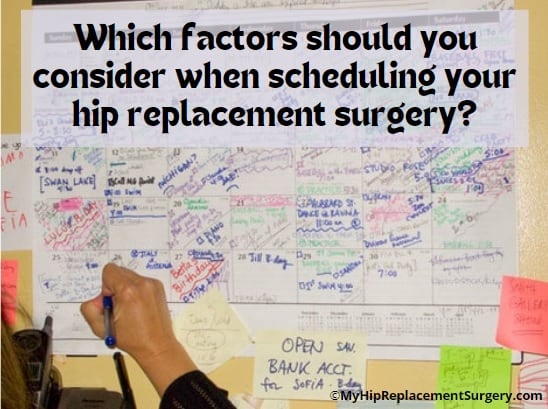 1. Orthopedic Surgical Queue – Depending on your orthopod and health care plan, you may have to wait up to three months to secure a specific time for your hip replacement. If you are in a socialized medicine country like Canada or England, it can be much longer.
 2. Degree of Pain – If you are in great pain, schedule when you can.
3. Job Constraints – Is there a slow time of year for your job? Do you have sick and vacation days available? Schedule when it works for your work.
4. Holidays or Family Events – For some people the holidays, such as Christmas, might be a perfect time to rehab, for others it is the worst time. Plan accordingly.
 5. Sick Days And Vacation Days – Typically, there is about a six week recovery period. Examine the sick and vacation days you have available to you.
6. Weather And Time Of Year Restraints – It is tough to rehab when there is a foot of snow or the temperature is 95 degrees with 95% humidity. Decide, if your hip pain allows you, when the best time will be for you to complete your rehab. Warm months are by far the best. You don't want the difficulty of putting on long pants, warm boots, long underwear or bundling up just to go outside and rehab. I did most of mine in flip flops (not recommended for support or safety), shorts, and a t-shirt.
 7. The Cost Of The Procedure – Be aware that hip replacement surgery is expensive. Below, I discuss additional tips to help you financially plan ahead.
8. Shop Early – Once I knew I was having surgery and my hip replacement was scheduled two months out, I asked if I could get wait-listed for an earlier time slot. The scheduling coordinator said she would make a notation in my chart but that due to the back-list of waiting patients, the required medical tests, hip replacement class and similar items to complete prior to surgery, I probably would not be able to receive an earlier date.
 9. Recovery Time – Your activities are going to be constricted for at least a month after surgery.
Other Factors to Consider
Planning For The Cost Of Your Operation – Plan your surgery for when you will have enough money for your co-pay and deductible payments. For some, this might mean when you get back an IRS tax refund. For others, it might be contingent on selling a home or stock.
Hip Tip – Change Your Insurance Coverage: Many medical insurance plans have various levels of deductibles, co-payments, limits and costs. It may be advantageous to stay with your same carrier and pay more per month to receive lower overall costs. Compare your costs with your current plan and how they will change with a new plan, after factoring in the surgical costs for hip replacement.
Hip Tip – Additional Insurance Options: Depending on your age and/or income, you may want to investigate acquiring medical coverage from Medicare and/or Medicaid. Also, if both you and your spouse have insurance via work, you will need to determine how you may get both insurance plans to pay for your surgery.
Hip Tip – Disability Insurance: If you have disability insurance, examine your policy to determine if your policy will cover any lost earnings.
Toilet Seat Lifter
Rod's Comments: This makes sure you don't dislodge your hip replacement while on the toilet.
Installs under toilet seat, providing a 3.5″ rise for added height.
Offers comfort and support without replacing your own toilet seat.
Heavy-duty arms aid in getting on and off the toilet.
Arms provide support for pushing off and leaning when seated.
Plastic molded rail is easy to wipe down for cleaning.
Elongated seat depth: 21.25 inches.
Overall width with arms: 21.25 inches.
Riser height: 3.5 inches.
Hardware and instructions included for secure installation.
Long screws included to install riser and existing seat.
Designed to fit an elongated toilet bowl.
Riser dimensions: 19.5 inches long, 14 inches wide.
Hip Tip – How To Save Money By Examining Your Co-Payment And Deductible Costs: You can save money by evaluating your current insurance plan and determining that by paying a higher monthly premium, you may have lower co-payments and/or deductibles. This simple examination can save you thousands in out-of-pocket expenses.
Since insurance co-pays and deductibles are more likely to have been met towards the end of the year, you might have lower out-of-pocket costs by scheduling in fall or early winter. If you are more than a year away from your surgery, consider changing insurance carrier to a more cost-advantageous option.
Hip Tip – Is A Summer Surgery The Riskiest Time Of Year?: Here is a little-known fact: most residency programs begin at the end of June or first of July. If you have your surgery during this period, you might have to break your staff in a bit.
Alrighty… that concludes Chapter 13.