Chapter 20 – Pre-Surgery Medical Issues: Timeline And Checklist – Six Tips For Two To Seven Days Before Surgery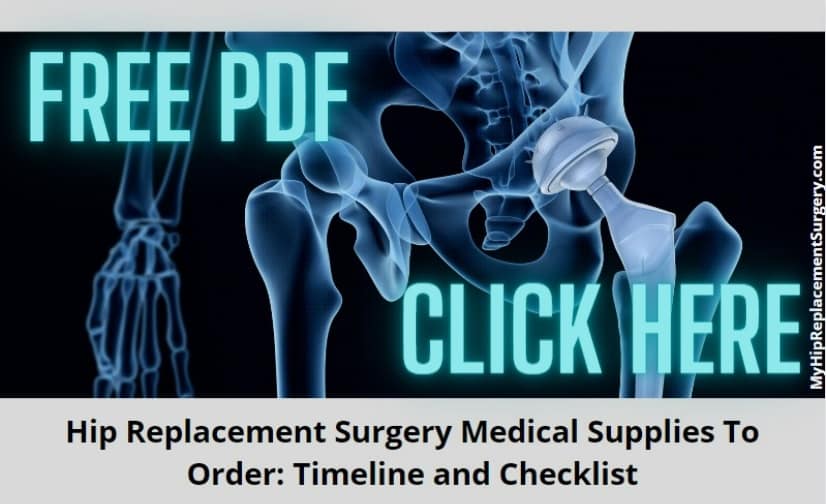 ---
About This Hip Replacement Surgery Page

Six Tips For Two To Seven Days Before Surgery
Lab Tests – Your physician will order lab tests you will need in the days leading up to your surgery. They typically involve both urine and blood tests. Your doctor will indicate if you need to be fasting for the lab work.
Orthopedic Pre-Op Examination – I had one final visit with my orthopedic physician three days prior to surgery. We mostly discussed if I had any new medical issues and the game plan for the surgery.
Transportation To Surgery – If you are getting a ride, confirm that the service or friend will pick you up to get you to your surgery on time.
Hip Tip – Transportation Home – Bigger Is Better: While the vehicle that brings you to the hospital for your surgery doesn't really matter, the vehicle that picks you up should be as large as possible. No sports car, and try and have a large SUV to take you home. It is very hard to get into a small car.
"Every drug increases and complicates the patient's condition."
Robert Henderson, M.D.
Post Surgery Medications – Your physician will prescribe a regime of post-surgery medications. These meds will mostly be short term in nature, but there can be quite a few medications prescribed.
Even though the dispensing pharmacist was thorough and complete, there were so many medications, different times of day to take each pill, and varied durations. It probably is worthwhile to take notes for the frequency and duration of each prescription.
Rod's Comments: This will offset the anesthesia side-effect of constipation.
Prune juice is derived from dried plums, also known as prunes.
It is a natural source of dietary fiber and various nutrients.
Prune juice is commonly consumed for its potential digestive benefits.
The juice is known for its mildly sweet flavor with a hint of tartness.
It can be consumed on its own or mixed with other beverages.
Post Surgery Medication Usage – When I met with my physician three days prior to surgery, I was also given all my post-surgery medications. It was an extensive list comprising of pain killers, stool softeners, sleep aids, blood thinners, and much more. I took as few drugs as I possibly could.
Alrighty… that concludes Chapter 20.