Chapter 14 – What Are The Surgical Risks A Hip Replacement?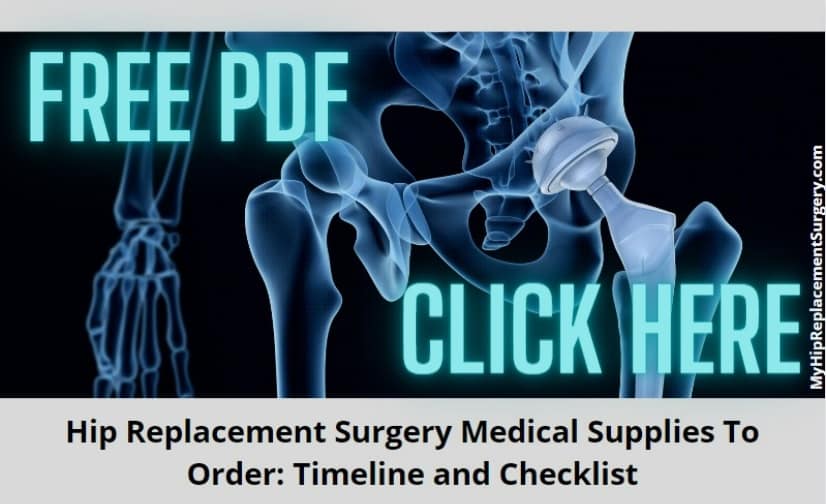 ---
About This Hip Replacement Surgery Page

Potential Risks of Hip Replacement Surgery
The Fine Print – Well, you knew it. There is a bit of fine print. Any surgical procedure, no matter how minor, involves risks. Hip replacement surgery is considered safe, but as with any surgery, medical complications can occur. The good news is that most medical complications can be treated but there are some other factors to consider.
"Side effects may include: headache, flushing of the face, sneezing, dyspepsia, prolonged erections, palpitations, photophobia, temporary visual changes like blurring of vision, increased light sensitivity, a tinge of vision with blue color, a sudden decrease or loss of vision in one or both eyes. In very rare cases heart attack, stroke, irregular heartbeats, and deaths have been reported in patients."
Typical Pharmaceutical Warning Label (But you could get better!)
By The Way… A Few Things Could Go Wrong – I was relieved when my orthopod told me I would have surgery. After those few minutes of optimism, he paused and then added the disclaimer, sort of like you hear on TV car commercials — said very quickly, at a low tone of voice, and with a lot of information.
Among the risks include infections, an actual worsening of the pain, heart attack or stroke, blood clots, hip dislocation, fracture, loosening of the joint, breakage of the prosthesis, and joint stiffening. Underlying this Chinese pick-up sticks mess of medical problems is the hospital's and physician's liability coverage premium and exposure.
What? Was That All The Risks? No warning of anal leakage, enlarged breasts, uncontrollable bladder issues, massive mood swings or sprouting body hair?
Hip Tip – Deep Vein Thrombosis: You will be at risk for blood clots (deep vein thrombosis) after hip surgery. Be sure to take your full regimen of blood thinners to lower your risk.
"Measure Twice, Cut Once."
Well-Known Proverb
Left, Right, Left, Left, Right – Sometimes, the operated hip can result in one leg being longer or shorter than the other. Before your surgery, your medical team will assess your leg lengths and an attempt to make them equal. Even when the legs are the same length, some patients still feel as though their leg lengths are different after total hip replacement surgery. Sometimes your new hip must be lengthened to provide proper muscle tension. It is generally advisable to wait three months before determining if there is a problem with one leg length. Hopefully, your orthopod did well in geometry class.
You're Still A Young Man – One of the problems offsetting my excitement for surgery was my age: 58 years old. I was at the younger (hard to believe) end of the spectrum for hip replacement surgery. More on this in a minute.
Walker
Length: 25.5 inches
Width: 23.5 inches
Height: 31 inches
Height Limits: Supports up to 5'9 comfortably
Weight: 18.6 lbs.
Weight Limits: 300 lbs.
Walker
Weight: 19 lbs.
Weight Limit: 350 lbs.
Height-Adjustable Grips: 31 – 35 inches
Compact: Folds for easy storage
Walker
Width: 17.5 inches
Height: height-adjustable backrest
Height Limits: Supports users from 4'11 – 6'4
Weight: 26 lbs.
Weight Limits: Supports up to 300 lbs.
You Could Get A Nosocomial Infection (Just What Are The National Infection Rates For A Hip Replacement?) – Nosocomial isn't some teenage acne cream. A nosocomial infection is an infection you get while you are in the hospital. You are around sick people, and the hospital staff is interacting with germs and bacteria and you could inadvertently become infected. A 2003 study by the National Institute of Health found a 0.55% infection rate for hip arthroplasty patients.
But Wait, There's More – Additionally, your orthopod will tell you that your new hip will relieve your pain, but there can be future issues or complications. Many patients now wonder just how long their total hip replacement will last.
How Long Does a Hip Replacement Last?
"I'll Take The Tires With The 100,000 Mile Tread." This final kicker, assuming you live long enough, is that normal wear and tear over time will lead to a second hip replacement on the same joint. The same way the tires on your car wear out a little bit with each use is the same way your hip gets closer to needing a replacement as well. The longevity of your new hip is impacted by your age, sex, how much you weigh, diagnosis, your level of activity, condition of the surgery, the type of hip implant utilized, and other factors.
Future Revisionist Time Frame – Currently, it is estimated that 90% of hip replacements last longer than 10 years. It is also estimated that 80% of replacements last longer than 20 years.
If you require a second surgery, it's called revision surgery. You will realize you require revision surgery when the pain returns because your artificial joint eventually wears out.
The younger you are when you have your hip replacement surgery, the more likely you will need a revision surgery. As a bonus, the 2003 study by the National Institute of Health found a 2.67% infection rate for revision surgery.
Hip of Damocles: Knowing that after my hip has been replaced, my pain will be reduced, but knowing that there is often a limited lifespan on the prosthetic is like a sword hanging over my head. But it is better to have a new hip and enjoy the benefits than to be in pain and immobile.
Smart Economic Model! – In an insidious, economic way, I soon realized that orthopedic surgeons were the recipients of built-in future business, much like buying a cell phone which requires a calling plan. This leads to revenue over and over for the carrier. At my age, another hip replacement could result in future business for my surgeon. And, if that isn't enough, the revision surgery is more complicated and takes longer to recover than your first hip replacement surgery, and is more expensive.
"I made the statement that if we're wrong and something goes wrong on this flight, I wouldn't want to have to be the person to stand up in front of board of inquiry and say that I went ahead and told them to go ahead and fly this thing outside what the motor was qualified to."
Allan McDonald & Morton Thiokol (testimony to the Presidential Commission about the o-ring involved in the 1986 Space Shuttle Challenger Accident)
Lastly, You Could Get A 'Free' Hip Replacement (AKA 'Hip Implant Devices Of A Lesser God') – Of course, you would have to do this the hard way and that is if the manufacturer has a defect. Stryker Corporation has recalled certain hip implant products due to corrosion and other degradation problems. Biomet agreed to pay at least $200,000 each to hundreds of people who received artificial hips that required replacement. Johnson & Johnson paid $2.5 billion to settle approximately 8,000 hip implant lawsuits from a product it removed from the market in 2010. Maybe you should just invite Gloria Allred to attend your surgery. I know, it's a hard way to earn something for 'free.'
Alrighty… that concludes Chapter 14.