Chapter 22 – Pre-Surgery Medical Issues: Timeline And Checklist – 15 Tasks To Complete One Day Before Surgery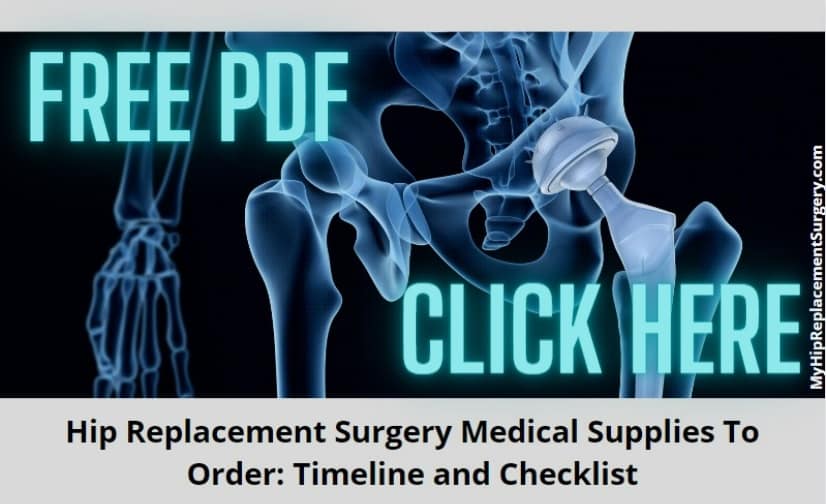 ---
About This Hip Replacement Surgery Page

15 Tasks To Complete One Day Before Surgery
Surgical Time – Typically, your scheduled surgery date is known weeks in advance, but the specific hour is often established the day before your surgery.
Fasting Times At Surgical High – These are the directions I received for the night before my surgery (yours may vary): "Nothing to eat after midnight. No mints or chewing gum. You may have up to one glass of clear liquids (water, clear tea, or black coffee but NO milk, cream or sugar) between midnight and two hours before arrival time."
"Keep your eyes on the stars, and your feet on the ground."
Theodore Roosevelt (because you will be able to see your feet, but not touch them)
"And This Little Piggy Went Wee, Wee, Wee All The Way Home" – For those so inclined, it is a good time to also clip your toenails because those little piggies of yours are going away for a while. Plan on paying for a pedicure or two during your recovery.
Almost Cut My Hair – Don't be like David Crosby. Get your hair cut before surgery because it will be hard to get out and about for a couple of months following surgery.
Hip Tip – Unpolish Those Nails: If you wear nail polish, remove it prior to surgery.
Scrub A Dub Dub – I was given a medical scrub kit I had to use the night before the surgery and the morning of the surgery. The purpose is to sterilize your skin so no germs or bacteria can enter the body during surgery.
How To Scrub A Dub Dub – As you are taking your bath or shower, apply a small handful of antiseptic skin cleanser to the areas where the skin is in contact with itself. This includes your armpits, groin, and under the breasts. You will also need to gently scrub a wide area around your surgical site for two minutes. Rinse off gently, leaving a thin film of the antiseptic on your skin. Do not towel dry the surgical area; allow it to air dry.
Grab Bar
Rod's Comments: I still use these every day – safety first!
2-Pack: Contains two grab bars
Multiple Lengths: 12 – 32 inch lengths available
Weight Limit: 500 lbs.
Brand: Tesuchan
Material: Stainless Steel
Item Dimensions: LxWxH 17.68 x 3.46 x 2.83 inches
Finish Type: Polished
Joint Replacement Kit
Rod's Comments: You will need every item in this kit.
Contains 8 different hip/knee replacement aids, including:
32-inch grabber tool
foldable trash grabber
sock aid
sturdy shoehorn
dressing stick kit
48-inch leg lifter
bathing sponge on a stick
storage bag
Toilet Seat Lifter
Rod's Comments: This makes sure you don't dislodge your hip replacement while on the toilet.
Brand: Essential Medical Supply
Material: Plastic, Metal
Color: White
Item Weight: 3.5 lbs.
Item Dimensions: LxWxH 19.5 x 14 x 3.5 inches
Hip Tip – Under My Skin: Be sure not to over-scrub and irritate your skin.
Sizing Walkers And Crutches – Typically, the occupational or physical therapist will adjust the walker and crutches you will use during your rehab, so bring them to your surgery.
Directions To The Hospital – Often, your hospital is not in the same building as your physician's office. Make sure you know where your hospital is located and where to find parking. I printed out directions and used a GPS, but it still took me an extra 10 minutes to figure out where the entrance to the parking garage was hiding.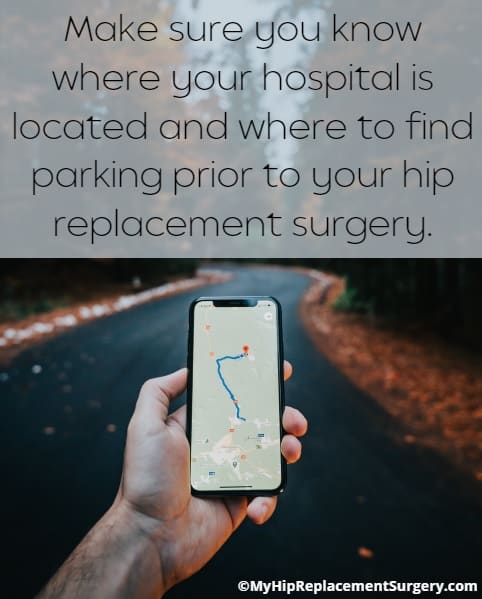 Hip Tip – Valet Parking: Some hospitals offer valet parking. This can be handy with the pain and stress you have prior to surgery. Some hospitals even offer free valet parking. Be sure to ask before you arrive.
Hip Tip – Free Parking: This doesn't always work (what do you expect for a $60,000 procedure?), but ask for complimentary parking in the hospital parking lot.
Directions To The Admissions Department – Hospitals are large and often confusing. Your hip replacement class will provide a diagram of the hospital layout including the location of the admitting department for orthopedic surgery. For many hospitals, admissions are located on the ground floor.
Pack Your 'Go Bag' – You really won't need much to take to the hospital. I wore shorts, a t-shirt, and flip flops. I took my wallet (the hospital suggests having less than $10 with you), glasses, a toothbrush, iPad (and charger) and my cell phone (with a charger). You may consider bringing magazines, books and even your favorite pillow. Some people suggest a night gown or pajamas, but you will be spending most of your time in a hospital gown, laying down, so save yourself some packing.
Hip Tip – Peeking Out: Just imagine listening to the song Windy and realize you will be in an 'open wind' hospital gown. Modesty will not be expected of you. You will have little need for things like deodorant, make-up, or a change of clothes.
Alrighty… that concludes Chapter 22.